Power MBA
PowerMBA
Interested in a radical new way to get an MBA? Learn more about the Power MBA today: bite-sized education that's revolutionizing the business world.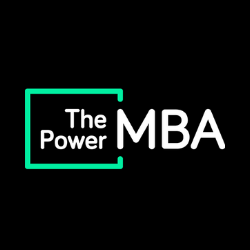 About this course
Getting a Master's of Business Administration (MBA) is the classic way to break into the world of business. MBA graduates get higher wages, make more connections and work on more exciting projects.
But that path isn't right for everyone. 
Some people don't have the time or money for business schools. Shouldn't these people get a chance to prove their worth as entrepreneurs as well?
Enter the Power MBA.
Delivered entirely online, it's a radical new way to learn the ins and outs of business. Proudly unaccredited, their bite-sized lessons cover the most vital parts of business administration.
With lessons led by leaders of companies like Waze, Shazam, and Airbnb, you'll get real-life knowledge that's helped others succeed. If you've always wanted an MBA but business school wasn't right for you, check out the Power MBA.
Course content
What is the Power MBA?
The Power MBA is a new approach to business education focused on speed, flexibility and practical knowledge. Proudly unaccredited, it's an alternative to studying at a university or business school.
Their courses cover everything you'd find in an old-school MBA: strategy, management, marketing, entrepreneurship, and more. But mixed with that are actionable insights from the leaders of today's most exciting businesses.
Over 40,000 people have taken the Power MBA course: the face of business is changing.
How is the Power MBA different?
OK, that sounds great. But how is the Power MBA different from a normal business school?
For one thing, the lessons are entirely different.
Rather than in-person lectures, the Power MBA's lessons are short and sweet 15-minute educational videos. Fully online and delivered daily, you can follow along from anywhere in the world, no matter how busy you are.
This approach is unusual, but it has several advantages.
For all their merits, universities and business schools and slow-moving. It's hard for them to match the fast pace of modern business: what's revolutionary today will become old news in the three years it takes to get a degree.
In contrast, the Power MBA's model keeps them agile and always up-to-date. They constantly revise old content to keep it up to date, letting them stay on top of the newest and most exciting developments in the business world.
Just as importantly, it lets them bring education to everyone.
Their online-first model means a scholarship is far cheaper than traditional options. You also don't need any prior experience or qualifications, or do a GMAT score calculation to figure out if you're eligible. In other words, this is an ideal way for total newcomers to get serious training in business administration. 
However, you won't actually get an accredited Masters of Business Administration when you finish the MBA. The whole point of the Power MBA is to be a game-changing alternative to the traditional MBA program that we're so familiar with.
If you're hell-bent on having those three letters after your name on LinkedIn, you'd be better off checking out the other online MBA programs that we've curated.
Who is it for? 
Do any of these sound like you?
An overworked student without much free time

A busy professional looking for a change of career

Someone interested in business but can't afford an MBA

A student unable to travel to far-off business schools

A new parent that can't take three years off for studying
If so, the Power MBA might be right for you.
Traditional courses last anywhere from two to three years, but the Power MBA takes an average of only ten months. The accelerated pace and low costs make it a great option for people who need to fit learning around an already busy life.
Their daily learning model is based around being agile and flexible. As such, it's little surprise that they mainly focus on running start-ups and getting known as an entrepreneur.
To that end, they also offer excellent networking opportunities. Because the Power MBA is fully online, their community is a diverse mix of entrepreneurs from across the world.
In other words, it's meant for people who want to build horizontal connections that span industries and borders. Students meet both online and at their regular community events in places like Madrid, New York, London and Mexico City.
Power MBA reviews 
Clever business means doing your research. As such, you should see what other people are saying before you get out your credit card.
Their Trustpilot page is the best place to see hundreds of student reviews in one place.
As of writing, they're sitting at a 4.7/5 ranking with over 1000 reviews. In other words, 928 out of 963 students think taking a Power MBA was worth it.
Here's a typical review:
Concepts are readily applicable! The 15 minutes a day content is a wealth of knowledge with real-life examples, not just theory.
I work essentially 50-80hrs a week with two kiddos at home and am able to get through it, learn it, engage in it and apply to my business.
The negative response the Power MBA has received is primarily due to their focus. They are mainly concerned with helping entrepreneurs and start-ups, rather than large corporations.
Besides minor issues like that, it's a very well-received project.
Many kinds of people have found the Power MBA valuable. If some of these reviews speak to you, it's a sign that taking it yourself could be a great opportunity. Don't neglect it.
Experience Level
Intermediate
View Course
Further Reading
Frequently Asked Questions
Is this really 100% online?
This course is completely online, so you can study from anywhere! All you'll need is a device with an internet connection, such as a computer or a smartphone. If the course has any live, instructor-led sessions, you may need a microphone and possibly a webcam to fully participate. The instructor will make you aware of this beforehand.