In early 2020, most companies had already been using phone conferencing for years, and many had begun to use various methods of video conferencing. Video calls for personal use had only just started to increase in popularity.
Then the COVID-19 pandemic hit, with its lockdowns, remote working, and isolation. Video conferencing and calling skyrocketed in popularity. Nearly overnight, 2020 became the year of Zoom.
Thousands of companies adopted it so quickly as a way to keep their workers connected and productive that in the early days, Zoom video calls often froze or crashed due to the strain on Zoom's infrastructure. Not only did it become the video communication tool of choice for effective meetings, but it was also creatively utilized for everything from virtual happy hours to virtual team-building events.
The uptick of Zoom for non-business spiked as well. Schools used it to link millions of kids and their teachers in virtual home classrooms. Everyone from teenagers to grandparents have been using it to stay connected with family and friends during those many months of isolation. Creative uses of Zoom span virtual birthday parties to virtual baby showers.
Now, over a year and a half later, many things have changed. One of these changes is that companies realized that video conferencing and calling, once considered a novelty, is capable of being a fully integrated, even vital way for those companies to maintain communication and collaboration.
Another of these changes is a desire on the part of many people to find viable alternatives to Zoom.
There are various reasons why you might want to seek an alternative to Zoom. Here are a few examples:
Duration: Zoom's free version only allows meetings of 40 minutes in length.
Quality: In the free version, larger meetings don't use HD quality video, which can lead to lag time and screen freezes.
Cost: As seen in the two items above, there is a cost if you want what is essentially the full featured version of Zoom.
Integration: Zoom is essentially a stand-alone program and doesn't integrate with others.
Security: One of the most troublesome criticisms of Zoom is shaky security. Uninvited people can sometimes join your meetings, a situation that even has a name: Zoombombing.
The top alternatives to Zoom
With personal video calls now much more common and business video conferences almost the norm, is Zoom still the only game in town when it comes to web conferencing tools?
Far from it. Zoom may be the most well-known web conferencing tool, but there are now many alternatives to Zoom for video calling and conferencing. Several of these have free versions with more full-featured paid versions available. Here are some of the most popular alternatives to Zoom:
Google Meet
Formerly known as Hangouts, Google Meet was created as a response to the growing popularity of Zoom. Meet includes some more common video conference features like screen sharing and audio background noise cancellation, and can be used on a web browser or smartphone.
It also includes a low light mode, has high quality for low bandwidth, and integrates with a handful of other Google apps, like saving its video recordings to Google Drive. It has a basic free version and a Workspace Individual Version for $7.99 per month that unlocks additional features.
Microsoft Teams
While used a bit less for personal video calling, Microsoft Teams is one of the most popular alternatives to Zoom for businesses. As you might expect, Teams has deep integration with many other Microsoft products, in particular Office 365, which is Microsoft's comprehensive suite of workplace applications like Word, Excel, PowerPoint, OneNote, SharePoint, and the ubiquitous Outlook. Teams includes both audio and video conferencing, as well as IM-type chat capabilities all in one.
It is also compatible with both a web browser and smartphone. Teams has a standalone free version, a Business Basic version for $5.00 per month, and a Business Standard version for $12.50 per month, each of which adds further Microsoft app integration.
Skype
Before the COVID-19 pandemic and Zoom's meteoric rise, Microsoft's Skype had been the reigning king of personal and business video calling and conferencing.
While Microsoft now positions Teams as its business conferencing and collaboration product, it has positioned Skype more toward personal video conferencing and communication, and one of the most viable alternatives to Zoom.
Skype was one of the first web conferencing tools to feature instant, voice, and text messaging, video chat, and file and screen sharing. It is also compatible with both a web browser and smartphone. Skype to Skype calls, video chats, and messaging are free, but for anything outside its platform, like a landline or mobile phone, an additional plan must be purchased, with the introductory level at $2.99 per month for up to 2,000 minutes of US calls, and pricing plans increase from there.
Ring Central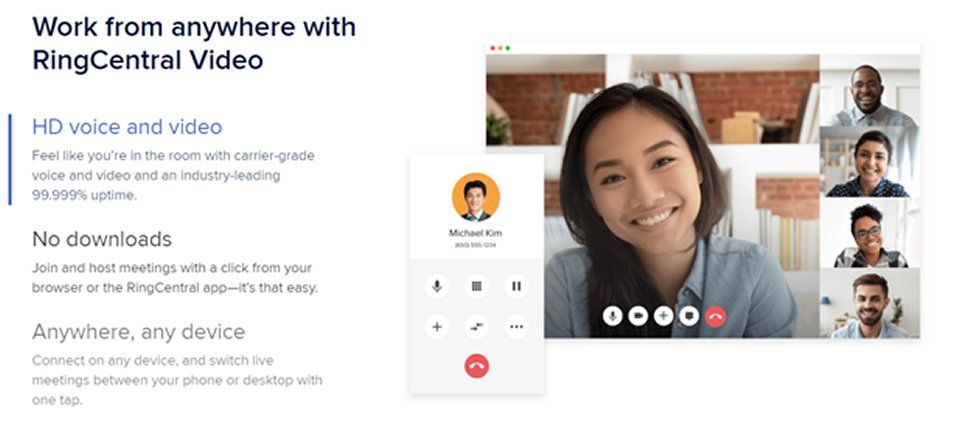 Ring Central is a more business-oriented cloud-based phone system that allows you to BYOD due to its compatibility with just about any smartphone, tablet, computer, or dedicated hardware.
It includes integrations with Microsoft Teams, Outlook, Google Docs, Dropbox, Box, and other apps, as well as text chat and audio and video conferencing. RingCentral has several levels of paid plans depending on the number of users and how many features you want. Prices start at around $30 per month and increase from there.
Cisco WebEx
Cisco WebEx has been around since the mid-1990s and continues to be the video conferencing platform of choice for many businesses, making it one of the more solid alternatives to Zoom.
WebEx was one of the pioneers of today's video conferencing, screen sharing, and meeting recording. It also allows customization for enterprise solutions. WebEx allows attendees to join from desktops or mobile devices and its optional WebEx calling devices to help teams communicate in real-time. The WebEx Basic Plan is free for up to 100 people with Meet Plan at $13.50 per month and Meet + Call Plan at $25.00 per month, each of which adds more features.
GoToMeeting
GoToMeeting is a business collaboration and productivity platform that was designed to simplify online meetings and is one of the easiest to use alternatives to Zoom. It can be used across desktop, mobile, and tablet devices and no download is required.
It includes audio and video conferencing, chat messaging, screen sharing and other collaboration tools, and integration with a limited number of software applications. Their Professional plan for 150 users is $14, and the Business Plan is $16.
BlueJeans
BlueJeans is Verizon's video conferencing service and software. Another product designed and known for its simplicity, BlueJeans claims to allow users to "schedule, join, and host one-touch meetings in just six seconds" from any device.
BlueJeans can be used on desktop and mobile devices and features both Dolby Voice audio and HD video for superior call and conference quality. BlueJeans Standard, allowing up to 50 meeting participants, is priced at $9.99 per month if paid annually and BlueJeans Pro, allowing up to 75 participants and additional collaboration features is $13.99 per month if paid annually.
Jitsi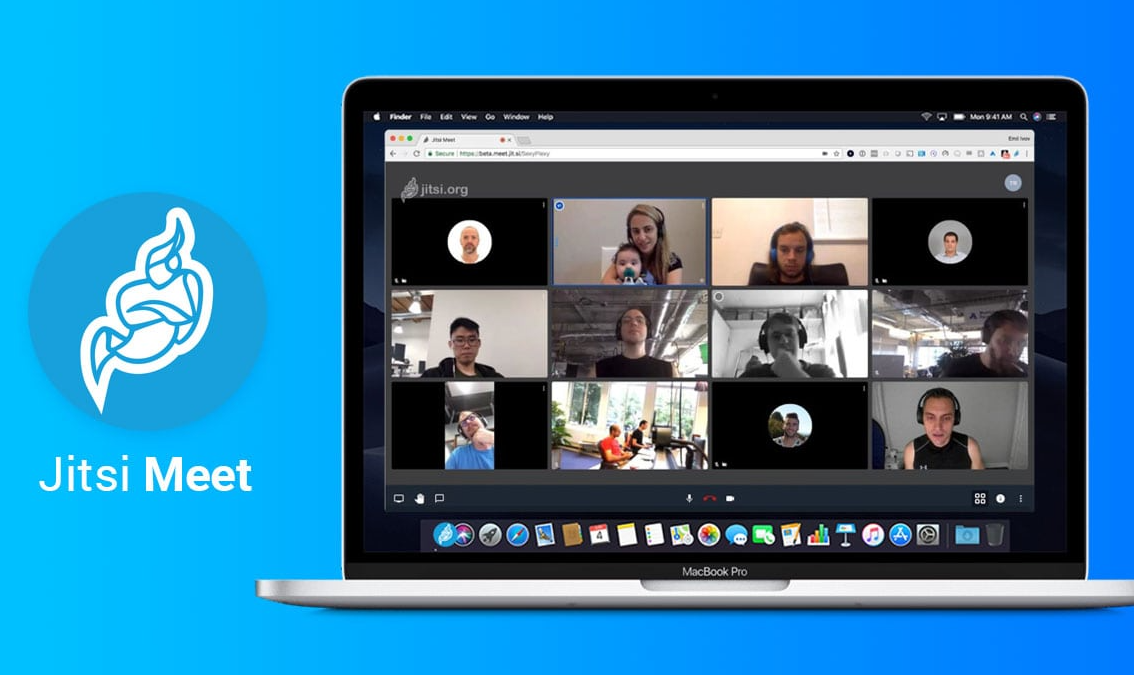 Jitsi is a collection of free and open-source projects that let you build and deploy secure video conferencing solutions across multiple hardware types.
It's essentially a foundation for many products and has an active developer community. Jitsi is built around its audio and video conferencing core of Jitsi Videobridge and Jitsi Meet and additional add-on apps include call recording, and simulcasting. As an open-source architecture, Jitsi is free to use with a basic version and an 8×8 Meet version with additional capabilities.
How to choose the right alternative to Zoom
As you can see, there are many web conferencing tools that are potential alternatives to Zoom. Some are better for personal use, while others are geared toward business or enterprise applications. Some have more basic functions with lower cost, some are loaded with features and higher price plans.
With so many alternatives to Zoom available, how do you choose the one that's right for you? It's best to take time and do some research into a few, weighing their features, costs, and other factors, to find one that best suits your needs.
---